Unifii Operations Cloud
Next-generation transformation, delivered as a service.
Powerful. Agile. Quick to integrate. Ready to deploy.
Unifii Operations Cloud has been designed to bring the transformative power of digital technology to your operation by connecting your people, processes and technology together in a single environment.
Operations Cloud allows you to move away from reliance on single-use solutions, traditional large-scale enterprise software systems, or build-it-yourself software development and finally deliver the convenience and power of digital technology to the work place.
Delivered as a service from the cloud, Unifii Operations Cloud is a platform that equips your enterprise with extensive design, development, integration and process management capability.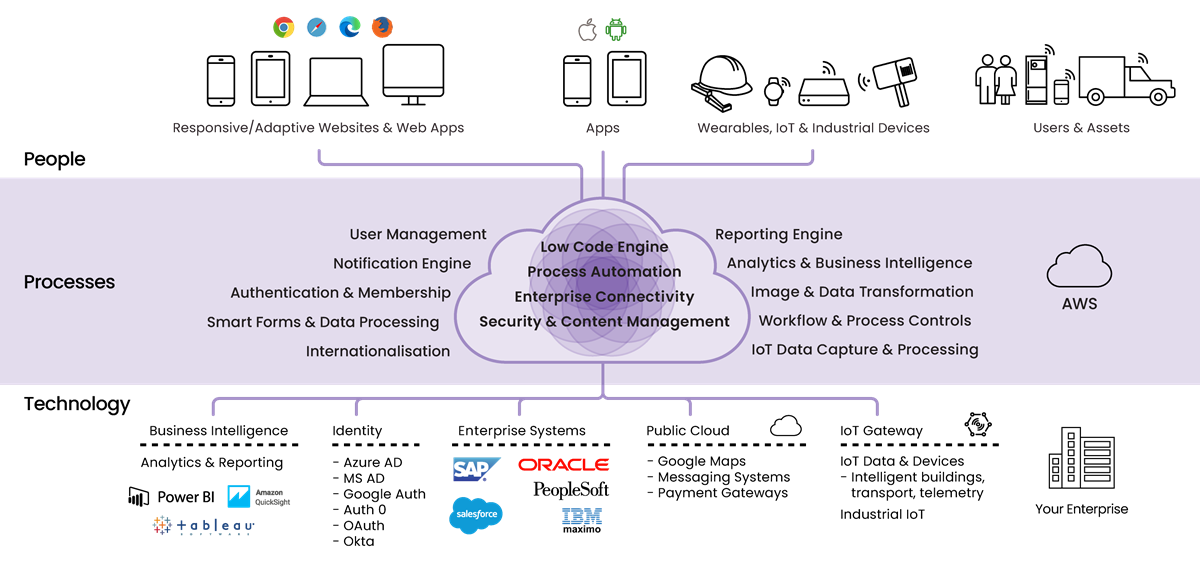 Best-in-class Enterprise Digital Transformation.
Design, Build, Deploy.
If you need to solve more complex problems, Unifii Operations Cloud is a world-class Digital Transformation Platform which includes a low-code development environment, a modern application layer that works on any mobile device, desktop computer, or ruggedised or intrinsically safe device, and over 100 other features that allow you to build Operations applications in record time and at low cost.
Unifii Operations Cloud also allows you to do what virtually no other system can do at this scale: connect to ALL your stakeholders, whether they work for you or not. Almost all enterprise IT systems assume that every stakeholder works for the enterprise, but in the real world, a significant number of your users might be contractors or work for your upstream and downstream vendors, suppliers, logistics companies, or customers. Unifii Operations Cloud connects EVERYONE together in a single system.
Rapid Application Development, without programming.
Eliminate the need for multiple vendors, technology stacks and development environments.
The Unifii Low Code Engine allows you to build complex forms, workflows and business applications using the in-built drag-and-drop interface in hours or days, not weeks or months. Low Code doesn't mean low power.
Unifii Operations Cloud connects the application layer and integration layer in a single digital value chain which eliminates the need for multiple technology stacks and development environments. Instantly deploy APIs to applications with no code. Configure workflows and forms to allow user to complete business processes in the field and instantly push the data to your system of record.
Enterprise Grade Security, Reliability and Integration.
Connect with your existing IT systems including all major ERP platforms.
No more development cycles, application teams or long-term project life cycles. Unifii Operations Cloud provides both the business and IT with a suite of technology resources that can solve business problems really fast while meeting the most extensive enterprise technology governance requirements.
Build enterprise applications using our simple to use drag-and-drop interface with no coding skills. Integrate with your IT systems, build sophisticated workflows with user access controls, and deploy content and functionality without worrying about development cycles, code management and endless process delays.
Best-in-class mobility, out of the box.
Exceptional user experience, every single time.
People love mobile devices. All your customers, staff, contractors use mobile devices from sunup to sundown. They use them at their desk, in their car, on the lot, on a flight, at the shops and in their bed. Mobile devices are the ultimate business tool. Unifii is the leader in mobile engagement. Brilliant user experience, every time, on any mobile device, delivered automatically.
Unifii Operational Cloud is designed to reach any user on almost any type of digital device including smartphones, tables, ruggedised and intrinsically safe devices, scanners and readers, legacy devices and, of course, laptops and desktops, digital kiosks and wall-mounted flat screens.
Access to Data and Business Intelligence.
Business Intelligence is now mission-critical for operationally-focussed enterprises and Unifii Operations Cloud is designed from the ground up to collect, process, store and forward all for your primary, secondary and meta data. This means that, for the first time, real-time data from the field can be processed directly into your business intelligence systems, providing management with instant access to information that can support better decisions, planning and continuous improvement.
Instant access to data visualisation, dashboards and business intelligence.
Using a well-architected framework, Unifii Operations Cloud also provides you with an infinitely scalable data lake to store your primary, secondary and meta data, securely, reliably and safely. This data is available through our highly capable interface technology to be consumed anywhere in your enterprise. Unifii Operations Cloud is the solution that every Operations professional has been waiting for. Use it to solve your most urgent problem today or scale it and solve 100s of problems. The choice is yours. Whatever you choose, Unifii Operations Cloud will get the job done in record time, within your budget and provide you with the enabling technology you need to operate in a vastly more complicated world.