Unifii Operations Cloud
Next-generation Digital Transformation.
Managing Operational Risk in a Rapidly Changing World.
Unifii Operations Cloud is the fastest, most effective way to digitise your critical business processes and bring together your people, processes, data into one system that fully integrates with your IT systems so that you can build a safer, more efficient and more sustainable enterprise.
Unifii Operations Cloud provides a new approach to operational risk management that is built on emergent technologies such as cloud computing, low-code software development, Internet of Things (IoT), mobile technology and advanced data analytics and business intelligence.
Unifii Operations Cloud is a comprehensive, ready-to-deploy Operational Risk Management Platform-as-a-Service that can be used across the entire enterprise to measure, analyse and manage operational risk in real time and make any enterprise ready for tomorrow.
Unifii Operations Cloud is simply the most powerful, effective and fastest digital transformation platform in the world today that is built from the ground up for operations.

Large enterprises trust Unifii to protect, discover and create value.
Enabling innovation and transformation at scale for large industrial and operational enterprises.

A new approach to Operational Risk Management, Industry 4.0 and ESG.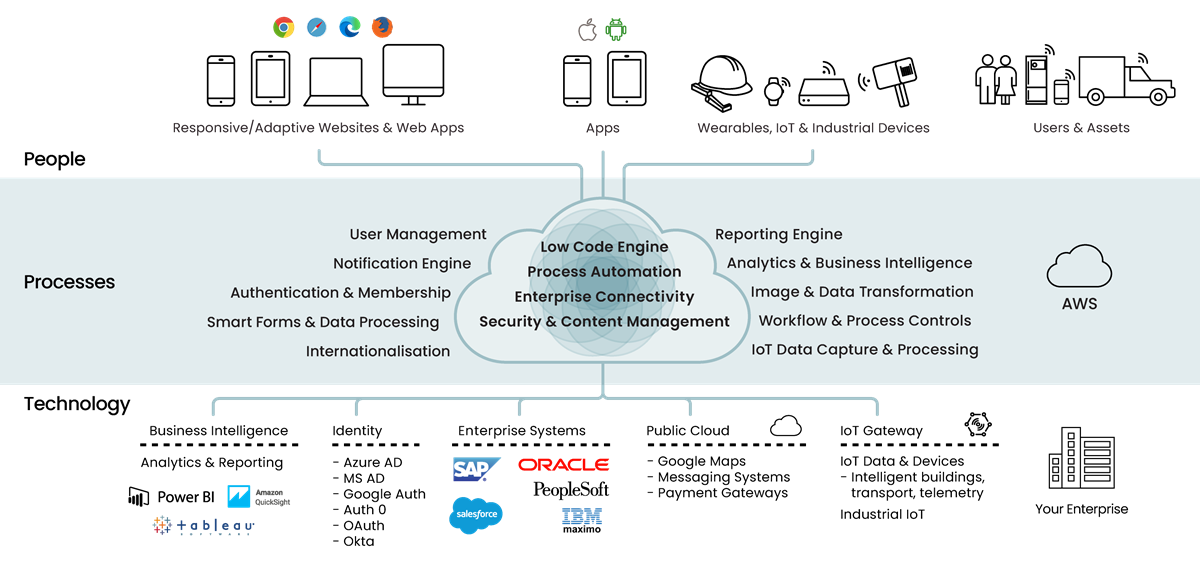 Our platform leverages the latest approaches to cloud technology, data management and user engagement and is built on Amazon Web Services to deliver the entire platform capability from the Cloud.
The platform is designed to support ORM, Industry 4.0 and ESG programs by bridging the gap between front line and other operational activities and the data processing, management and analysis systems required to delivery these programs.
Unifii Operations Cloud is available as a commercial off-the-shelf solution or can be configured to meet specific requirements for large-scale enterprises.
We believe that modern enterprises face unprecedented, rapid change and that traditional software solutions cannot meet the needs of the business.
Our competitive advantage is based on the ability to meet your changing needs in record time and at low cost when compared to traditional approaches.
Unifii Operations Cloud makes enterprises ready for tomorrow.