Unifii Operations Cloud
The next-generation platform for enterprise risk management and business improvement.
Managing Operational Risk in a Rapidly Changing World.
Unifii Operations Cloud is the fastest, most effective way to digitise your critical business processes and bring together your people, processes, data into one system that fully integrates with your IT systems so that you can build a safer, more efficient and more sustainable enterprise.
Unifii Operations Cloud provides a new approach to operational risk management that is built on emergent technologies such as cloud computing, low-code software development, Internet of Things (IoT), mobile technology and advanced data analytics and business intelligence.
Unifii Operations Cloud is a comprehensive, ready-to-deploy Operational Risk Management Platform-as-a-Service that can be used across the entire enterprise to measure, analyse and manage operational risk in real time and make any enterprise ready for tomorrow.
Unifii Operations Cloud is simply the most powerful, effective and fastest platform in the world today that is built from the ground up to manage operational risk and improve business outcomes.

Large enterprises trust Unifii Operations Cloud to protect, discover and create value.
Measure, manage and mitigate all your risks in a single platform and build a safer, more efficient operation.

A new approach to Operational Risk Management and Business Improvement.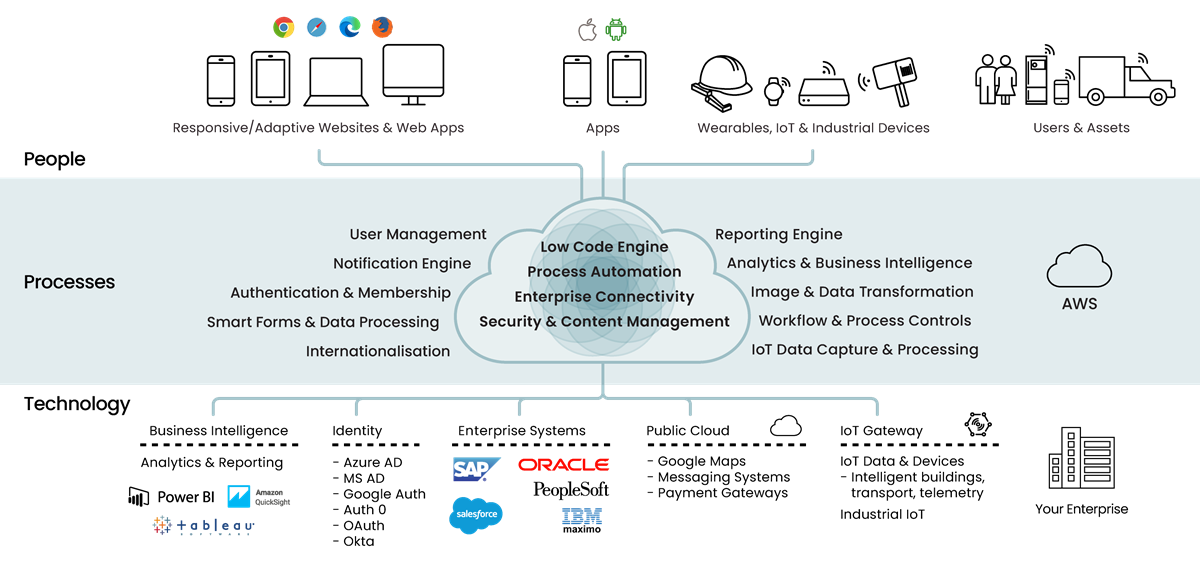 Everything your enterprise needs to manage operational risk, all the way from the frontline workforce to the Board.
Unifii Operations Cloud gives you all the tools you need to transform your operation, from risk discovery, through reporting and analysis to mitigation and prevention.
The platform is designed to bridge the gap between front line and other operational activities and the data processing, management and analysis systems. Real-time analytics, leading indicators and deep reporting are now possible, so that any enterprise can be confident that their risks are discovered, analysed and mitigated, leading to improved safety and wellbeing, lower operational costs and protected right-to-operate.
Unifii Operations Cloud is available as a commercial off-the-shelf solution or can be configured to meet specific requirements for large-scale enterprises.
Efficient Data Handling:
Seamlessly collect, manage, and report operational risk data from front-line workers right up to the Board.
Enhanced Information & Workflow Management:
Equip operational sectors with unmatched information distribution and workflow capabilities.
Unified Platform for All:
Integrate front-line workers, contractors, and third parties into a single, regulated information and workflow management ecosystem.
Advanced Data Insight:
Unlock state-of-the-art data visualization and business intelligence tools for every aspect of your operation.
Quick & Effective Implementation:
Easily design, roll out, and embed new business applications and processes.
System Integration:
Connect your existing systems and data siloes together, unlocking and creating new value for the enterprise.