Practice Areas
Delivering value through deep insights and experience.
Broad and deep experience that matters
Unifii brings years of consulting experience in three practice areas to every project: Business Process Re-engineering, Operational Risk Management and Operational Excellence.
A technology solution delivered without understanding the operating context of the user is a solution half delivered.
In every single project, we start with our unique consulting process - The Unifii Way - which engages all business, operational and technical stakeholders in a discovery process. During this process, we appropriately challenge all the underlying assumptions for the project and seek to uncover all the things that we "don't know that we don't know".
We always seek to engage the business stakeholders in a meaningful journey of discovery while establishing a trusted partnership. Our consulting services help to build trust with our clients and to ensure that we deliver the best possible solution in the shortest time.
Key to our approach is the need to deliver value to our clients in every dimension - lower costs, improved productivity, reduced risk, better access to business intelligence and continuous improvement.
The Unifii Way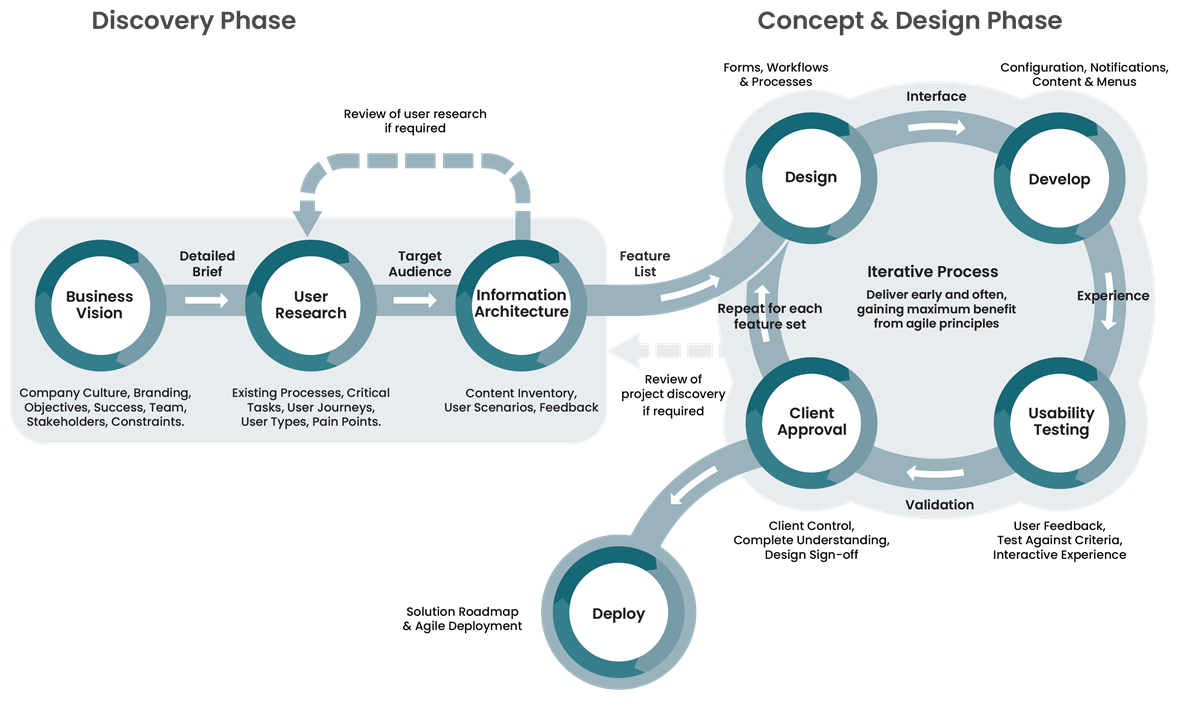 Business Process Re-engineering
The short history of Digital Transformation is littered with examples of a simplistic approach, focussed on taking existing manual, paper-based processes and digitising them. This approach is fundamentally flawed because it fails to take advantage of the power and flexibility of digital technology to deliver improved efficiency and effectiveness.
Our Business Process Re-engineering (BPR) team will help you to discover a new way of working that leverages digital workflows, access to data, glass screens and mobility. BPR, done well, should eliminate time, cost, confusion and cognitive overhead from every process that is made digital. Our team has decades of experience transforming enterprises using best practice BPR methodologies and will deliver the best solution, on time and on budget.
Operational Risk Management
Operational Risk Management (ORM) is the oversight of operational risk, including the risk of loss resulting from inadequate or failed internal processes and systems; human factors; or external events. The Unifii Operations Cloud was designed from the ground up to support ORM, and to enable the design and deployment of digital workflows that support effective and reliable processes and proper governance and oversight.
Our ORM practice brings great depth of experience to every project and will assist with business process design as well as the development of supporting workflows and application using the Unifii Operations Cloud platform.
Operational Excellence
Operational Excellence is a conceptual framework that allows an enterprise to execute their business strategy better than their competitors.
The Unifii Operational Excellence practice will help your enterprise to protect and create value and to find ways to improve systems and processes while improving behaviour and culture.
Unifii Operations Cloud is the perfect platform to help deliver Operational Excellence because central to the design ethos is the idea that when we bring together people, processes and technology in one unified system, we can change the nature of work for the better.